1250-510
STRAIGHT CUT BAND SAW
Similar to other Peddinghaus designs, the 1250-510 band saw utilizes a smarter design for maximum longevity of consumables, and core components.
Technology that includes twin column construction, rigid material clamping, and an innovative lift and kneel material transport design ensures maximum ROI on your machine tool investment.
Peddinghaus Band Saws are rugged machines that are internationally recognized for speed, quality finish, and precision cutting.
With the introduction of Speed Sawing Technology and such innovations as PeddiCool blade cooling and Autofeed Blade Compensation, Peddinghaus engineers have opened the doors to new heights of sawing efficency.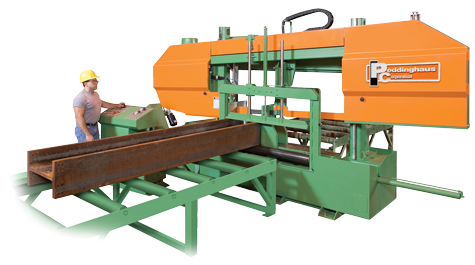 Faster Cutting Times

The proof is in production at Peddinghaus. Typical Cutting times on the 1250-510 band saw are as follows:
USA ROLLED SECTIONS
W18×35: 33 Seconds
W12×79: 1 Minute 15 Seconds
W14×730: 7 Minutes 32 Seconds
UNIVERSAL ROLLED COLUMNS
10″ × 10″ × 4.2″: 2 Minutes 36 Seconds
12″ × 12″ × 9.5″: 4 Minutes 24 Seconds
14″ × 16″ × 15.5″: 7 Minutes 11 Seconds
INTERNATIONAL SECTIONS
IPE 80: 31 Seconds
IPE 450: 1 Minute 24 Seconds
HEM 450: 2 Minutes.
Modular Design
The Peddinghaus Roller Feed design of material measurement allows for an array of material handling options. With the 1250-510 band saw, measurement happens via the tandem drilling system or AccuMeasure device allowing for total layout flexibility. Peddinghaus conveyors can be quickly expanded, split apart, transferred across from either side (datum or non datum), and modified with no sacrifice in machine accuracy or functionality. The elimination of unnecessary mechanism also allows for superior durability, as Peddinghaus material handling can be easily stored outside in any climate. Furthermore, the modular design of Roller Measurement gives fabricators the ability to expand their production on an as needed basis as business dictates, allowing for unmatched potential.
How do I setup my shop?
Shop layout and material handling efficiency is paramount for cost savings. Every time a profile is handled with a crane, profits are lost. This unnecessary shop cost not only slows the productivity of other processes, but creates unneeded work related hazards. With the help of Peddinghaus' seasoned layout engineers and systems personnel fabricators learn the secrets to shop floor success without experiencing the pitfalls of poor layout and planning.
Store Material Outside

Your material doesn't need electricity, heat, or shelter in order to be stored. So why house all of your material handling inside, consuming valuable shop space, and incurring costly overhead expenses? Peddinghaus' Roller Feed design makes it easy to place material handling outdoors. On top of saving shop space, this innovative method eliminates unnecessary crane handling that inhibits other operations inside of your shop. Easily unload delivery trucks outside, and load conveyor without slowing other parts of your production.
Small Facilities, Small Overhead

Big tonnages in small places – this is the mantra of the Peddinghaus systems department. Smaller spaces equate to lower operating expenses across the board; whether it's heat, electricity, property taxes, or the cost of initial investment. Peddinghaus users commonly employ a garage style structure outside of their main welding and fabrication shop to lower overhead costs, and minimize the hazards caused by housing multiple operations under a single roof.
Lower Maintenance

The 1250-510 band saw eliminates unnecessary flood coolant mess for its cutting expertise. This same machine provides an automatic chip conveyor that expedites the maintenance of cutting byproduct. The 1250-510 continually proves to be the machine of choice when low cost cutting is a must.
Specifications
ABCM 1250
Type of Thermal Cutting
Oxy-Fuel
Maximum Width Beam
50″
Minimum Width Beam
3″
Maximum Flange Height
24″
Maximum Material
(Flange or Web) Thickness
6″
Minimum Material Thickness
1/4″
Number of CNC Controlled Axis
4
Number or Torches
3
Weld Prep Top Flange
Yes
Weld Prep Bottom Flange
Yes
Machine Weight
16,000 lbs