ABCM 1250/3
THE RIGHT SOLUTIONS FOR YOUR SHOP
In the world of fabrication there is no such thing as 'one size fits all' equipment. Each machine has an ideal application, and for each Fabricator there is an ideal machine. The ABCM-1250 coping machine is ideally suited for mid-sized to larger fabricators, or fabricators that require high volumes of welded connections.
Ideal for the Automation of Common Copes: Shops that require web cutouts, flange penetrations, slotted tubes, block copes, "rat holes", "dog bones", and more find the ABCM performs each of these cuts flawlessly and at the lowest possible labor cost.
Used as a Coper and a Miter Saw: Does your shop currently have a straight cut saw and just can't justify the investment of a miter saw? Is your current cutting capacity overburdened? Combine your coping and miter cutting into one operation on the ABCM.
Used for the Application of Split-T Sections: Structural split T's are no problem with the Peddinghaus ABCM-1250 coping machine.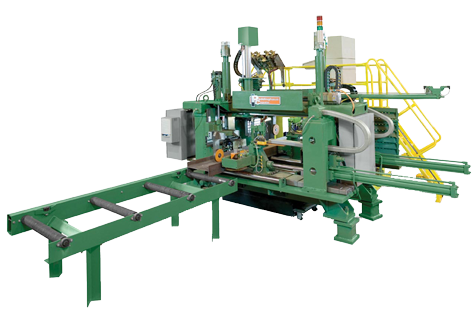 How Does the ABCM Compare to Typical Robotic Plasma Copers?
Although plasma is undeniably the faster cutting solution, the triple torch design of the ABCM oxy-fuel coper allows for the cutting of two flanges simultaneously. This means flange thins are performed on both top and bottom flanges at the same time, weld prep is generated concurrently, and operating costs are minimized due to the machine's low power requirement. In addition there is no need for a dust extraction unit and consumable costs are considerably lower when compared to plasma. In addition to this, there is no tedious torch probe process associated with robotic copers, and the narrow diameter of the oxy-fuel torch allows for tighter cutting against flanges, tipping the scales in favor of the ABCM-1250.
Modular Design
The Peddinghaus Roller Feed design of material measurement allows for an array of material handling options. With the ABCM-1250 measurement happens at the machine, eliminating separate carriage or gripper feed mechanisms. This allows for total layout flexibility. Peddinghaus conveyors can be quickly expanded, split apart, transferred across from either side (datum or non datum), and modified with no sacrifice in machine accuracy or functionality. The elimination of unnecessary mechanism also allows for superior durability, as Peddinghaus material handling can be easily stored outside in any climate. Furthermore, the modular design of Roller Measurement gives fabricators the ability to expand their production on an as needed basis as business dictates, allowing for unmatched potential.
How do I setup my shop?
Shop layout and material handling efficiency is paramount for cost savings. Every time a profile is handled with a crane, profits are lost. This unnecessary shop cost not only slows the productivity of other processes, but creates unneeded work related hazards. With the help of Peddinghaus' seasoned layout engineers and systems personnel fabricators learn the secrets to shop floor success without experiencing the pitfalls of poor layout and planning.
Store Material Outside
Your material doesn't need electricity, heat, or shelter in order to be stored. So why house all of your material handling inside, consuming valuable shop space, and incurring costly overhead expenses? Peddinghaus' Roller Feed design makes it easy to place material handling outdoors. On top of saving shop space, this innovative method eliminates unnecessary crane handling that inhibits other operations inside of your shop. Easily unload delivery trucks outside, and load conveyor without slowing other parts of your production.
Small Facilities, Small Overhead
Big tonnages in small places – this is the mantra of the Peddinghaus systems department. Smaller spaces equate to lower operating expenses across the board; whether it's heat, electricity, property taxes, or the cost of initial investment. Peddinghaus users commonly employ a garage style structure outside of their main welding and fabrication shop to lower overhead costs, and minimize the hazards caused by housing multiple operations under a single roof.
Global Support
At Peddinghaus service is our top priority. Peddinghaus offers a global team of customer support representatives that are always available at the Peddinghaus 24 hour customer support center. Through state-of-the-art remote diagnostic software, readily available local field support, and the industry leading warranty, support from Peddinghaus is only a call or a click away.
24 Hour Tech Center
To service our global clientele, Peddinghaus proudly provides our partners with 24 hour technical support. Our inside service staff have years of experience in the field, assembly, or factory checkout; providing them with hands-on experience with most machines. At Peddinghaus our staff is not only available when you need them, but they maintain superior knowledge to solve questions as they arise.
Powerful Field Service Staff
Although 90% of support issues can be resolved by our 24 Hour Tech Support center, an expansive network of 50+ Peddinghaus field service personnel are stationed throughout North and South America, Europe, Africa, Asia, Russia, and Australia.
Remote Diagnostics
Peddinghaus inside service technicians don't need to be at your machine to solve a question you may have. A common internet connection is all that is needed for the Peddinghaus technician to operate your control as if he was standing with you at the machine. The Powerful Windows® based Siemens control used on Peddinghaus equipment allows for this capability, and provides superior diagnostics via Windows® based atmosphere.
Web Camera Troubleshooting
Not every problem can be diagnosed with remote assistance. Mechanical issues or questions that require the human eye are still common. Peddinghaus machines are shipped with high definition web cameras and software; allowing Peddinghaus employees to vividly experience the activity at the installation without the need to leave the office. This feature is also available as an upgrade to all existing Peddinghaus machines maintaining a Windows® interface.
Industry Applications
The ABCM-1250 is the unsurpassed thermal processor for a wide array of applications. Parts up to 50″ × 24″ can be processed with ease.
Common structural fabrication cope production includes:
Flange Bevels
Block Copes
Flange Thins
Creation of Split-T Sections
"Dog Bone" Copes
Web Penetrations for duct work, etc.
Flange Penetrations for pipe, or other items that must pass through a section
"Rat Hole" Copes
Mitered or Square cut sections
Ideal Manufacturing Applications
Agricultural Equipment / Farm Implement Manufacturing
Automotive Conveyor / Assembly Line Fabrication
Solar Panel Fabrication
Trailer Manufacturing
Conveyor Manufacturing
Skids for the liquefaction of natural gas
Triple Torch Oxy-Fuel Technology
Three torches are faster than one! Three torches for simultaneous oxy-fuel cutting create the fastest and most efficient coper on the market today. Capable of mitered cutting and beveled weld preparation on the top and bottom flanges, the ABCM-1250 also touts automatic torch ignition, and compatibility with a wide range of cutting gasses.
Patented Probing System
The patented probing system of the ABCM-1250 coper automatically senses mill tolerance deviations and compensates without any sort of special programming considerations. Each flange torch assembly floats automatically during the burning cycle to maintain a fixed dimension from the torch tip to the surface being cut.
Acceptable Cutting Gasses
The ABCM-1250 Coping Machine is compatible with the following cutting gasses:
Acetylene
Propylene
Chem-O-Lene
Propane
Natural
Mapp
Ethylene
Butane
Flamex
Bevel Weld Prep Capabilities
The ABCM-1250 has the capability to automatically bevel the torches via program command on both the top and bottom flange of a profile. This Servo motor driven gear system gives machine the ability to create beveled edges of up to 45º on the Top & Bottom Flange of material and allows for simultaneous weld prep creation.
Roller Measurement
Peddinghaus' Roller Measurement allows for supreme flexibility in regards to material handling, and scrap savings. This unique form of measurement actually drives the material through the machine with a powerful pinch roller mechanism. By applying a set of precision encoders that track distance the material has traveled, the machine is able to quickly and accurately produce perfect parts. Benefits of the Peddinghaus Roller Feed system can include:
Minimized footprint – store material outside, and allow material to easily pass through a small doorway through the exterior walls of your facility
No length restriction – stock length is dictated only by weight
Load profiles of all shapes and sizes one after another without any stop in production – no need to wait for the return or unload of a gripper carriage, no need to change clamping devices
Electrical Features
From the electrical cabinet to the drive motors, the ABCM-1250 is equipped with Siemens electronics from top to bottom. Siemens provides the industry's leading quality, spare parts guarantee and availability no matter where in the globe the end user is located.
Software
Raptor Software Raptor software from Peddinghaus is today's premier structural machine tool CAD/CAM platform. Equipped with versatile modules intended to import, design, and export part programs, Raptor is fully customizable for the unique needs of the individual fabricator. www.peddinghaus.com/raptor
DSTV Import Module
BIM software programs (such as SDS/2, Tekla Structures, Graitec, and more,) are capable of creating part programs for use within Raptor by exporting data into a common file standard – DSTV. DSTV files are capable of being imported into the Raptor software platform for editing or CNC file creation purposes.
Tekla API Import Module
For fabricators who desire a more precise, data rich import, a direct Tekla API Module is available for optimized file conversions. Users of Tekla Structures have the option of importing geometry directly into Raptor with no intermediary file conversions. This direct transfer sources the original design of the structure and allows for automatic generation of coping data.
3D Module – Modify, Inspect, Create The core of Raptor is the 3D Module. If part data has been imported into Raptor, the 3D Module works as an inspection tool and is capable of modifying imported information. If part files need to be created, the intuitive design and user friendly interface of the 3D Module allows for powerful programming options.
Peddimat Legacy Export Module The Peddimat Legacy Export Module provides users the opportunity to create Peddimat files using Raptor. This export option allows users to develop part programs for operation on legacy machines that do not have an available Raptor post processor, or do not have an active license of Raptor present at the control.
Specifications
ABCM 1250
Type of Thermal Cutting
Oxy-Fuel
Maximum Width Beam
50″
Minimum Width Beam
3″
Maximum Flange Height
24″
Maximum Material
(Flange or Web) Thickness
6″
Minimum Material Thickness
1/4″
Number of CNC Controlled Axis
4
Number or Torches
3
Weld Prep Top Flange
Yes
Weld Prep Bottom Flange
Yes
Machine Weight
16,000 lbs