ANGLEMASTER REVOLUTION
THE RIGHT SOLUTION FOR YOUR SHOP
Precision, accuracy, intelligence, and strength are evident within the Anglemaster-HD. Labeled as Peddinghaus' most powerful Anglemaster to date, the Anglemaster-HD is pushing angle processing to new heights. Utilizing Smart Cylinder technology and comprehensive material dimensioning the Anglemaster-HD is the only Anglemaster of its kind.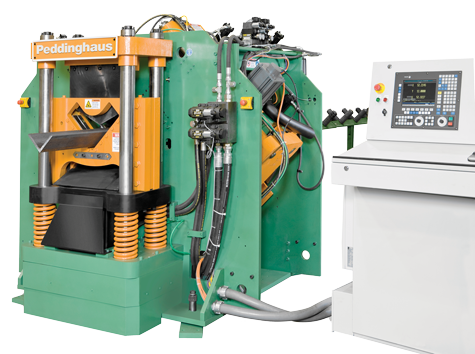 Single Pass Production
The Anglemaster-HD can punch round or shaped holes (obrounds, slots, etc), stamp or mark parts, and shear parts to length in a single pass. This allows for a streamlined production process without the need to handle parts multiple times, or maintain an array of manual operations to achieve the desired result.
Intelligent Design

Welcome to tomorrow's Anglemaster. Powerful enhancements to the hardware and software that drive today's Anglemaster-HD provide strength, speed, and intelligence never before seen in an angle and flat bar line.
Roller Feed

Continuous production is the benefit that Roller Measurement offers fabricators. Process one piece after another with no need to reload a carriage or other feed mechanism. Accuracy is made paramount with the use of two precision roller disks at the entry, and exit of the machine. This technology permits x-axis material motion up to 200 FPM.
Global Support At Peddinghaus service is our top priority. Peddinghaus offers a global team of customer support representatives that are always available at the Peddinghaus 24 hour customer support center. Through state-of-the-art remote diagnostic software, readily available local field support, and the industry leading warranty, support from Peddinghaus is only a call or a click away.
The Anglemaster-HD is designed to not only be fast, but versatile. Capable of punching and shearing flat bar up to 12" × 1", and angle up to 8" × 8" × 1" typical structural detail components are processed with ease.
The Anglemaster-HD is also capable of punching (not shearing) channel sections up to 12" wide adding further versatility to the capabilities of the machine. This wide range of abilities makes the Anglemaster-HD ideal for an array of sectors, including:
– Structural Steel Fabricators – Steel Service Centers & Steel Stocking Centers – Transmission Tower Manufacturers – Heavy Equipment Manufacturers – Agricultural Manufacturers – Rock/Stone/aggregate Handling Manufacturers – Stadium Seating & Bleacher Manufacturers – Barge and Ship Building Manufacturers – Conveyor and Grain Handling Equipment Mfg. – Any application where angle iron, channel iron, flat stock, and plate is processed