DG-1100
MITER BAND SAW WITH A SMARTER DESIGN
Similar to other Peddinghaus designs, the DG-1100 band saw utilizes a smarter design for maximum longevity of consumables, and core components. Technology that includes twin column construction, rigid material clamping, and an innovative lift and kneel material transport design ensures maximum ROI on your machine tool investment.
Peddinghaus Band Saws are rugged machines that are internationally recognized for speed, quality finish, and precision cutting.
With the introduction of Speed Sawing Technology and such innovations as PeddiCool blade cooling and Autofeed Blade Compensation, Peddinghaus engineers have opened the doors to new heights of sawing efficency.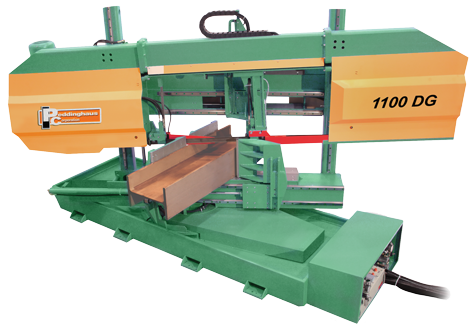 Modular Potential

The Peddinghaus Roller Feed design of material measurement allows for an array of material handling options. With the DG-1100 band saw, measurement happens via the tandem drilling system or AccuMeasure device allowing for total layout flexibility. Peddinghaus conveyors can be quickly expanded, split apart, transferred across from either side (datum or non datum), and modified with no sacrifice in machine accuracy or functionality. The elimination of unnecessary mechanism also allows for superior durability, as Peddinghaus material handling can be easily stored outside in any climate. Furthermore, the modular design of Roller Measurement gives fabricators the ability to expand their production on an as needed basis as business dictates, allowing for unmatched potential.
Industry Applications
The DG-1100 band saw is the ideal miter cut band saw for a wide array of applications. Parts up to 44″ × 20″ can be processed with ease.
Common structural fabrication part production includes:
Floor Beams
Columns
Joist Components
Truss Components
Girder Components
Beam Girder Processing
Composite Beam Components
Purlins
Common structural projects:
Industrial Pipe Racks
Power Plants
Schools
Apartment Complexes
Office Buildings
Strip Malls
High Rise Components
Common manufacturing applications include:
Wind Tower Component Production
Sign Structure Components
Conveyor Manufacturing
Mining Equipment
Earth Moving Equipment
Transformers
Trailer Manufacturing
Stone Crushing Equipment
Solar Panel Fabrication
Total Miter Cutting Versatility

The DG-1100 is capable of cutting a wide range of miter cuts. Whether it's 45º Left or Right, 60º Left or Right, or 90º straight cuts, the DG-1100 performs. Total miter cutting capability can be achieved via program command, or manual input into the saw control.
Speed Sawing Capabilities

Peddinghaus' patented speed sawing technology provides fabricators with a competitive edge in just 5 simple steps, eliminating inefficiencies caused by old fashioned sawing technology.
Rapid advance blade approach
Automatic material sensing
Automatic cutting speed transition
Feed compensation during the cut
End of cut sensing and automatic retract
Each of these steps make cutting more productive, and allow for higher production efficiencies.
Powerful Blade Motor

Faster cutting requires a robust and powerful blade motor. The DG-1100 band saw relies upon a powerful 12 HP Blade Motor. Because of this, the DG-1100 can utilize aggressive blades in order to remove more material simultaneously and provide faster / cleaner cuts.
Specifications
| DG-1100 | |
| --- | --- |
| Cutting Range at 90 Degree | 43.5″W x 20″H |
| Cutting Range at 45 Degree | 27.5″W x 20″H |
| Cutting Range at 60 Degree | 17.75″W x 20″H |
| Round at 90 Degree | 20″H |
| Round at 45 Degree | 20″H |
| Round at 30 Degree | 17.75″H |
| Plate | 43.5″W x 6″H |
| Drive Motor | 12HP |
| Saw Blade | 366.14″ x 2.00″ x .063″ |
| Machine Weight | 11,105 lbs |