E8x
STATE OF THE ART IN SERVO-ELECTRIC PUNCHING
An early and major step towards sustainable fabrication was taken on the introduction of the servo-electric E series turret punch press in 1998. Now Prima Power offers already the third generation of this series.
The genius of servo electric punching is how it combines energy savings and ergonomics with superb accuracy and productivity. The Ex series has been designed to offer versatile capacity made easy to utilize; Prima Power's new machine control and user interface software with touch screen panel ensure fast set up and convenient operation. With the Prima Power Ex series, modern servo-electric punching productivity is truly within easy reach.
The servo mechanically actuated punching stroke is NC-controlled and thus, in addition to high-performance punching, outstandingly accurate forming capacity is available.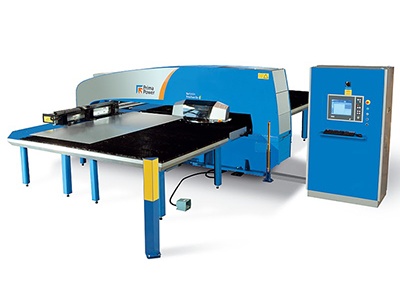 Highlights
Customer oriented sheet size up to 1,500 x 4,300 mm puching solution
Flexible customer-specific turret layout up to 250 tools
MultiTools® for additional punching versatility
Rugged "O" frame
17/20/23 tons punching force up to 8 mm
low energy consumption and connection power
Work chute for max. 500 mm x 500 mm parts
SU3 work chute sorting solution for small parts
Programmable clamp setting (PCS)
Intelligent Stroke Control (ISC)
AUTOMATION:
E8x is designed for standalone use for long parts
SU3 – smart sorting solution for small work chute parts
High productivity due to versatility, high speeds, ease of operation, minimum set up times
Small power supply connection and very low power consumption
Inherently low maintenance cost
High tooling capacity – fast setup and less waiting time
Brush tables for low noise level and to maintain perfect sheet surface quality.
17/20/23 tons punching force up to 8mm = various end user solutions
Individual clamp movement = 100% of sheet utilization
1,500 mm x 4,300 sheet size = longer accurate punched part
Operations can be handled from one side = simple, efficient factory logistics
Average power consumption: 4 kW = less use of energy
Extremely high servo-electric punching accuracy = less scrap, more production
Fewer critical components compared to hydraulic machines = low maintenance costs
Robust "O" type frame for perfect tool alignment = less wearing of punching tools
Max. sheet size 1,500 mm x 4,300 mm (60″ x 169″)
Sheet size w/o repositioning 1,565 mm x 2,530 mm (60″ x 100″)
Punching speed up to 700 hpm / 1 mm between holes
Punching forces 17, 20 or 23 ton (19.1, 22 or 25.3 US ton)
Tool rotation speed 133 rpm