PEDDINGHAUS FDB-2500
SAVE ON SCRAP
By applying innovative cutting techniques the FDB cuts costs when it comes to scrap and consumables. Peddinghaus users report common scrap ratios of 4-6%. When compared to burn table or gripper measurement methods that commonly exceed 12-20% scrap per sheet it's easy to see why Peddinghaus solutions are the most cost effective on today's market.
How can the FDB provide savings through innovative plasma cutting technology, while other designs cannot? The FDB handles plate using Peddinghaus' patented Roller Measurement technology, eliminating the need to maintain a rigid scrap skeleton which is critical on older plate machine designs. By bringing the plate to the operating area of the machine instead of the other way around, Peddinghaus paves the path to profitability.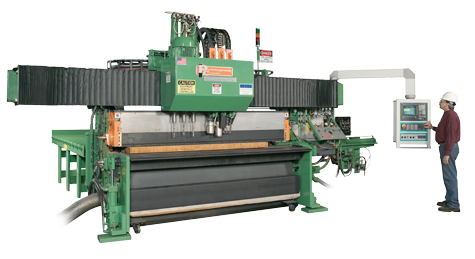 Handle Material More Effectively
Peddinghaus' patented roller feed material handling technology has proven to be the measurement method of choice in thousands of installations throughout the globe. Beyond superior accuracy, roller feed measurement allows fabricators to process faster, and fabricate at a lower cost than other designs on the market today.
Maximize Productivity
Maximize productivity with superior material handling by employing Peddinghaus' single pass system. Plates can be loaded or staged one after another of varying thicknesses and widths with no stop in production. As the machine processes parts, plate can be loaded simultaneously. As finished parts are dumped onto an optional conveyor or bin, they are removed from the operating area automatically for streamlined material handling.
Save Shop Space
Your production material does not need electricity, heat, or shelter in order to be stored. Housing material inside consumes valuable shop space, and incurs costly overhead expenses. Peddinghaus' roller feed design makes it possible to place material handling outdoors.
On top of saving shop space, this innovative method also eliminates unnecessary crane handling that inhibits other operations inside of your shop. Easily unload delivery trucks outside, and load conveyor without slowing other areas of your production.
One Operator Does It All
Peddinghaus machines are designed with one man operation in mind. One operator loads, processes, and unloads the system with ease; performing the work of several employees compared to burn table or gripper based systems. Plate is loaded on conveyor, driven into the machine, processed, and dumped as completed parts onto a conveyor or into a bin for secondary processes.
Cut Costs by Saving on Scrap
Eliminate the need to maintain a rigid skeleton structure with the FDB. Using Peddinghaus' common cutline or edge start techniques, torch starts can be minimized, multiple parts can be cut in a single pass, and scrap can be virtually eliminated.
Global Support At Peddinghaus service is our top priority. Peddinghaus offers a global team of customer support representatives that are always available at the Peddinghaus 24 hour customer support center. Through state-of-the-art remote diagnostic software, readily available local field support, and the industry leading warranty, support from Peddinghaus is only a call or a click away.
Industry Applications The FDB is the ideal plate processor for a wide array of applications. Plate up to 8′ wide and 3″ thick can be processed with ease.
Common Structural Fabrication Applications Include:
Base Plates
Splice Plates
Gusset Plates
Bridge Components
End Plates
Shear tabs
Web Stiffeners
Moment Connections
Cap Plates
Bracing Connections
Transmission Tower Connections
Common Manufacturing Applications Include:
Wind Tower Component Production
Sign Structure Components
Conveyor Manufacturing
Transformers
Trailer Manufacturing
Stone Crushing Equipment