SINGLE CYLINDER
IW-45M
The IW-45M has four standard stations, capable of a wide range of applications. The punching station can be converted into a notching station. The IW-45M is heavier and stronger than other competitive machines. This durable and economical model is perfect for small shops with a limited budget.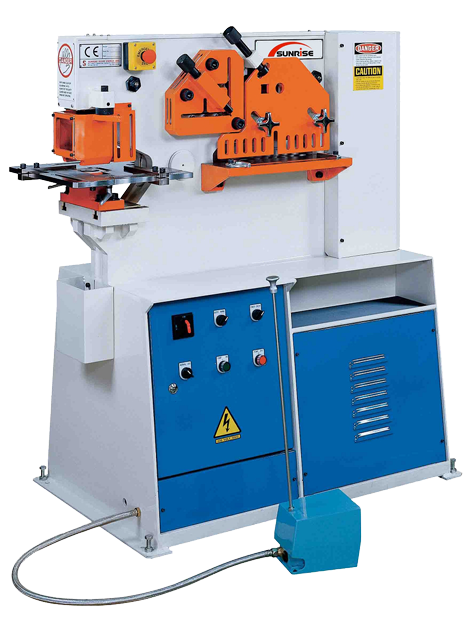 SPECIFICATIONS
Punching Pressure    45 Ton
Punch Capacity    ø22 x 15
(Diameter x Thickness)    ø40 x 8
Throat Depth    175
Max. Stroke Length    35
Cycles / Min. (15mm stroke)    31
Working Height Up to Die    970

Flat Bar Shearing    350 x 8
(Width x Thickness)    180 x 12
Blade Length    360
Angle Flange Trim    75
Working Height    970
At 90o shearing    80 x 80 x 8
At 45o Miter shearing    50 x 50 x 6
Working Height    1120
Round Bar Shear    ø25
Square Bar Shear    25 x 25
Working Height    1190
Rectangular Notcher (WxDxT)    50.8 x 90 x 7**
Vee-Notcher (Side x Side x T)    90 x 90 x 8**

Single Vee Press Brake (W x T)    160 x 6*
Angle Bending    65 x 8*

Electric Power (HP)    5 HP
Net Weight (Apr.)    830 kg
Gross Weight (Apr.)    930 kg
Machine Dimension (Apr.) (L x W x H)    1260 x 700 x 1350
Packing Dimension (Apr.) (L x W x H)    1530 x 860 x 1630
Unit: mm
*optional tooling.
**On IW-45M the notcher is optional tooling to be installed at the punching station.
Based on material strength of 45kg/mm2 tensile.
Design and specifications subject to change without notice.