LHF-8410H

HYDRAULIC 4-ROLL PLATE BENDING ROLLS
4-Roll Plate Bending Rolls provides the outstanding performance, reliability, and quality features to reach the requirements of high precision and high production rates.  The machine has one fixed top roll and 3 pcs independently adjustable bottom rolls; under this roll arrangement, it is combined with the clamping and prebending advantages of 3 roll single pinch and double pinch machine.Furthermore, it's the best style mass production machine to do with CNC control, because once the material is clamped by the top and the central bottom rolls can get a fixed reference point for computer calculation.This type of machines is most suitable to do the job from 6mm to 75 mm thickness, with 1500 mm to 6000mm width.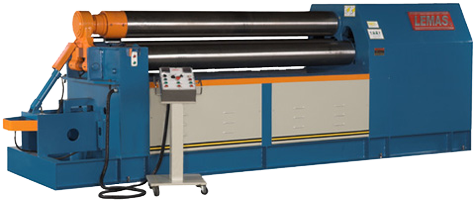 Rolling Flow Chart

Standard Equipment
Full hydraulic drive and control system.
PLC electric system.
Hydraulically powered and operated roll rotation providing infinitely variable rolling speeds.
Hydraulically powered and operated adjustment of the lower rolls with infinitely variable adjusting speeds.
All rolls go thru normalizing heat treatment, then high frequency on surface at HRC45°or above and ground.
All adjustments with are electronically controlled from the portable console by push buttons.
Key-lock switch for On/Off for the power supply.
Emergency stop button at the middle of the control panel.
Hydraulic drop end is designed with locking device for more safety.
Digital LED readouts for showing the positions of the adjustable lower rolls.
All lower rolls are individually and hydraulically tiltable for cone rolling by using push buttons.
Paralleling adjustment after cone rolling by using push button.
Cone rolling attachment.
Instruction manual and tool box.
Optional Equipment
Overhead Support device
Hydraulically operated Side Support device
Interchangeable Top Roll for bending diameters smaller than standard roll allows
NC/CNC control system