A leading specialist in laser and sheet metal working technology
Prima Power is a leading specialist in machines and systems for sheet metal working. Our offering in this field is one of the widest and covers all applications: laser processing, punching, shearing, bending, automation.
Their manufacturing facilities are in Italy, Finland, USA and China, from which they deliver machines and systems all over the world. Their sales and service network is active in over 70 countries, with direct presence or through a network of specialized dealers, like Southland Machine. At present their installed base counts more than 10,000 systems.
With their product lines ThePUNCH, TheLASER, TheCOMBI, TheBEND, TheSYSTEM and TheSOFTWARE they cover all stages of the sheet metal working process.
Visit Prima Power

Essential Machinery for the Steel Industry
From bridges to buildings, nothing beats a Peddinghaus. Peddinghaus proudly manufactures a variety of equipment for structural fabricators, steel service centers, and manufacturers alike. This includes: Drill Lines, Plate Processors, Copers, Band Saws, Ironworkers, Blast Cleaning Systems, Angle/Flat Bar Lines and CNC Layout Marking Lines.

One Stop Shopping for the Steel Fabricating Industry
Ocean Machinery, founded in Fort Lauderdale in 1989, is the premier one-stop shop for the steel fabricating machinery in Florida. Ocean Machinery also distributes the world class Ocean Avenger Beam Drill Line made by Peddinghaus, through its extensive dealer network. Ocean Machinery carries an extensive range of premium steel fabricating machinery and provides outstanding customer service and technical support, something which sets us apart from the competition.
Innovation and Expertise that Cut Through
Give production the edge it needs with HYDMECH profitable sawing solutions. For the past 30 years, Hyd-Mech has left the competition behind and continues to lead the world today in metal band saw and circular cold saw technology. With some of industry's top engineers, they've pioneered new innovations and products that have revolutionized the sawing industry with incomparable reliability and durability. Second to none, HYDMECH is The Rock Solid Solution.
They deliver the widest range of sawing machines in the industry. From unique, portable band saws to 200" mitering, horizontal straight cut off, and vertical band saws – HYDMECH meets your sawing challenges with solutions that'll make a sharp difference to production's bottom line. They also offer a variety of mitering circular saws, including 1" to 7" ferrous and non-ferrous, plus several forms of automation with bar feeds ranging from 30" to 120".
Bending Rolls Specialist
FACCIN Srl for years have been the undisputed world leader in designing, manufacturing and selling plate bending rolls, section bending rolls, dishing and flanging lines for large dome ends. The FACCIN product range represents what is considered to be the most technologically advanced bending rolls for plate and profiles available today, Worldwide.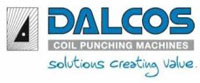 Make it Simple. Make it Dalcos.
DALCOS has been manufacturing, for more than twenty years, automatic coil punching machines and perforation lines for strips from 20mm up to 1500mm in width. Our patented technology offers high precision and simple processing of thin and sensitive material with a thickness range of 0.2mm up to 4mm, optimizing material utilization to as much as 100%.

The Industry Leader in Retrofitting Pressbrakes and Shears
Automec manufactures CNC gauging systems. Our positioning systems consist of a programmable control where the operator enters a dimension and a motorized gauging mechanism automatically moves through a sequence of programmed dimensions. These systems can be retrofitted to pressbrakes, shears, cut-off saws and punches.
Automec systems increase the productivity of the machinery they are attached to by dramatically reducing material handling during the manufacturing process. Our systems are noted for their ease of programming, high reliability and positioning accuracy.
Experts in Leveling
Maintaining flatness tolerance can be a challenge when producing parts via thermal processing, CNC punching or stamping operations. These processes can both create and relieve stress in metal which in turn will cause distortion in the part. For some of our customers, Arku Precision Levelers will provide a solid solution that will be easy to implement and incorporate into your production.
Visit Arku